"I was impressed with both the design and quality of construction. They are extremely comfortable and built with top of the line materials (stainless vs aluminum fasteners, for instance). If you're looking for long-lasting, pleasing to the eye, and well-built outdoor furniture, you should check them out!"
-D.B Homeowner in Chesapeake, VA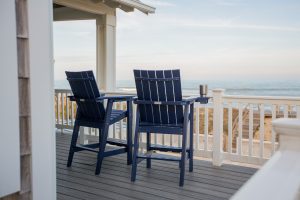 M.M – Lifelong OBX Lover
This furniture is amazing! We love how modern the Adirondack style chairs are- they're the perfect deck additions!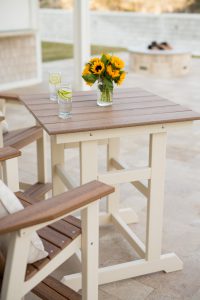 N.P. – Kill Devil Hills Homeowner & Outer Banks Property Investor
From design to unbeatable comfort and price, Kitty Hawk Chairs is exactly what we needed on the Outer Banks! We love shopping and supporting local businesses. Beyond a local company, Abby and John are professional and care deeply about their clients and products. The thoughtful design sold me and the comfort sold my husband. Who knew this durable wood alternative could be so comfortable!! I can already see my husband sneaking a nap in these while we enjoy our outdoor living space.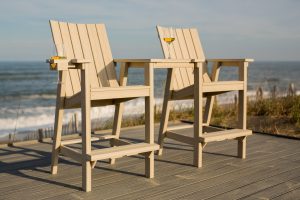 S.P. – Outdoor Enthusiast
These chairs are perfect. They sit up high enough to enjoy the view over my railings. There is a place to put my coffee or my glass of wine. Best of all they look cool, way more modern then your typical Adirondack chair and are super comfortable!
Incredible quality and well thought out modern design. I can't say enough how comfortable these chairs are… Love that these are made local in the OBX and with recycled materials. Great colors and high end solid product.
.These locally made chairs are the most comfortable I have ever sat in. You can tell a lot of time went into the design and I love the accessory tables and cupholders. Awesome to have such well-made furniture and know that the materials will last even in the harsh weather here on the Outer Banks.
Extremely comfortable and perfect angles! The variety of colors leaves options for everyone and match the beach life perfectly.
E.B. Lifelong Outer Banks Vacationer
WE LOVE OUR CLIENT TESTIMONIALS & WOULD LOVE TO HEAR FROM YOU TOO!